The statistics for Company Formations in 2021 have been published and the results suggest that overall, the business landscape across the UK is largely positive.
Created using data from Companies House and the Office of National Statistics, Inform Direct have published their annual review on the number of new companies formed and the number of companies closed in 2021. 
In this article we look at the national headlines and dive into the regional data of our two office locations: Market Harborough and Huntingdon. 
New Company Formations Nationwide
A total of 771,617 new businesses were formed across the UK in 2021, resulting in 3.5% more companies in existence nationwide than in 2020. To see this number of new companies opening is a positive signal about the health of the UK economy and is a figure often used to measure business confidence.
There are now more UK companies in existence than ever before, breaching the 5,000,000 milestone for the first time in history. 

Inform Direct – Company Formations in the UK in 2021 Report
Wholesale and retail trade (133,077 new companies) was once again the sector to welcome the highest number of new companies nationally. 2021 also saw increased activity in the construction (77,667 new companies) and property (73,668) companies) sectors.
Company Dissolutions Nationwide
With openings come closures and in less positive news, 2021 saw a record number of UK companies dissolved – 606,912 companies to be exact. Companies close for all manner of reasons and in 2021 it was inevitable that the pandemic would impact the UK business landscape.
Whilst the pandemic can't be blamed for every closure, there are several possible contributing factors that won't have helped.
Continued changes to consumers buying habits; affecting some industries disproportionately.
The end of various Government Coronavirus Business Support Schemes that acted as a temporary lifeline to struggling businesses
Time to reflect giving Business owners the opportunity close and turn to something else.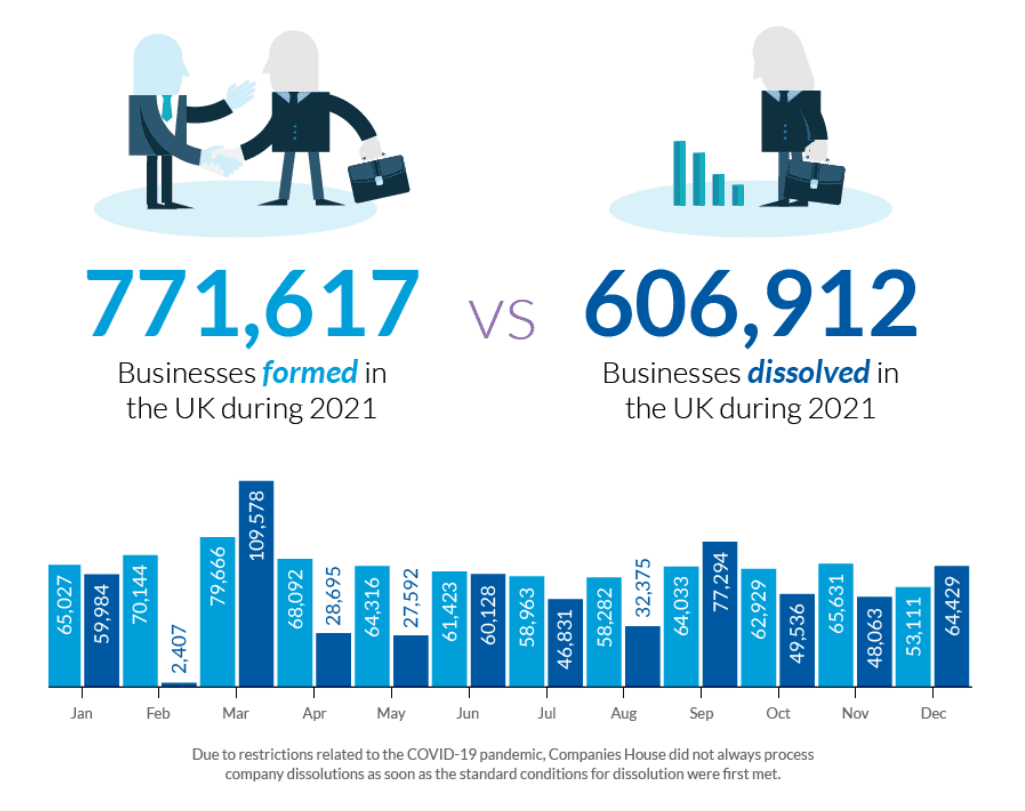 Regional Company Formations 
2021 saw 7,476 new companies registered in Cambridgeshire. Whilst tough trading conditions meant a record number of existing businesses also closed, the overall result was positive and the total number of companies based in Cambridgeshire grew by 3.4% during 2021, broadly in line with the UK average.
In Leicestershire at the end of 2021, total businesses equalled 71,867.
9,685 new companies were formed across the county whilst 10,352 companies were dissolved.
Detailed analysis for Cambridgeshire can be found here. 
Detailed analysis for Leicestershire can be found here. 
The future of the UK business landscape
2022 should be the year we see a return to some semblance of normality, with the opportunity to judge what the 'new normal' looks like and the resulting impact on the direction of the UK economy.
Assuming the worst effects of the pandemic continue to fade, we should see further business opportunities arise – particularly within industries most constrained over the last 24 months. There is much talk of 'Brexit opportunities' too as the economy continues to adapt following the UK's exit from the European Union.
Against that however, many will be concerned by the prospect of continued high inflation and rising interest rates, as businesses struggle both to contain their costs and find it harder to borrow for investment.
Each year many young companies are struck off by Companies House because they haven't filed the annual confirmation statement or their first set of accounts. It's prudent for new directors to seek out information and good advice at an early stage, starting with the appointment of a good accountant, to help facilitate growth – alongside supporting the company with its statutory compliance responsibilities.
We believe that growing businesses need more from their accountant; as business accountants, analysts and advisors, we help you understand and manage your numbers to drive plans and decision making. If you would like to discuss the ways we can help you and your business, simply call 0800 112 0880 or email hello@focalbusiness.co.uk.